Easter Island: A Unique Island Full Of Wonders & Great Sceneries
Easter Island resembles the notion of intrigue. Many have it on their list of places to see, and understandably so. My encounter with the island was brief but it was enough to get a sense of its intrigue and beauty. As we landed on the first day, the nice island breeze welcomed us. It was a perfect 80 degree weather. Advanced arrangements were made with our accommodation to have us picked up at the airport. Once all the expected guests arrived, we were set to go to our accommodation of choice, Camping Mihinoa. The 10-15 minute ride took us through a portion of the city center. The accommodation is about a 10 minute walk to the center of town where all the restaurants, souvenir shops, cafés, tour agencies and groceries were located.
Camping Mihinoa was a perfect setting if one wishes to stay close to the sea. It provides campsites with tents already set up for you. It also offers the option to stay in their basic dorms or private rooms with bath. We opted to stay in the private room which was adjacent to the living room area. That turned out to be a good decision as it rained cats and dogs for the first two nights. The accommodation certainly had a backpacker vibe to it and the staff was attentive to our needs. On the last night, we decided to stay in one of the hotels in the center of town. It turned out to be a great decision as the owner of the hotel cooked us the best fish meal I had during the entire Chile/Bolivia trip! I still dream about it to this day. Do note that food on the island is super expensive, more so than in Chile itself. So, if you wish to save money, buying food from the grocery stores and cooking them would be the only way to go. The same goes for accommodations; hence we opted to stay at Camping Mihinoa for most of the nights. You may also want to visit outside the high season to save money. That's how we managed to afford staying one night in the center of town.
As the island from what we're told is best visited by taking various tours around the island, we opted to book a couple of tours with KiaKoe. They offer a few tours which include the north and south parts of the island. We booked two tours, one half day and the other a full day with a visit to Anakena Beach.
Since we didn't get the chance to really enjoy Anakena beach, the next day we decided to catch a cab to take us to the beach. The plan was to spend at least half a day there to enjoy the sun and find some trails to hike nearby. The cab ride was only about $15 per person and took about 40 minutes or so. When going by cab, it's best to let the cab driver know when you wish to be picked up as cabs are not readily available at Anakena. We arrived at the beach at noon so we decided to get picked up around 6pm.
Anakena easily qualifies as a not to be missed attraction. Under sunny skies, it was simply a gorgeous strip of beach. In fact, it has to be one of my personal favorites beach-wise due to its unique features - for one, you have statues right next to the beach. Secondly, it's surrounded by hills. Thirdly, nearby is an off the beaten path hiking trail that allows you to explore the coastline without anyone around which goes on for miles heading further to the north of the island. The coastline view was stunning and easily my favorite portion of the Easter Island experience. It appears this trail is the one that can take you all the way to the town center of Hanga Roa but it requires all day hiking, one way. We hiked a portion of it and it was definitely a gorgeous trail along the island's coastline.
Apart from nature, if you wish to treat yourself while in Easter Island, here's an idea. Check out a Polynesian dance show. Although a bit contrived, it was still entertaining. In fact, secretly I was wishing that Polynesian dance classes become a new fitness fad in my hometown of D.C. It appears to be a great way to have fun and work those calories off as evidenced by such an athletic-looking group of dancers. Who wouldn't want to look like them? As a side note, the Polynesian culture certainly triggers a bit of my own heritage and with similar physical features, I can't help but feel at home in some ways. Easter Island did not feel like Latin America at all. It's easy to see that the locals are proud of their Polynesian heritage, as they should be.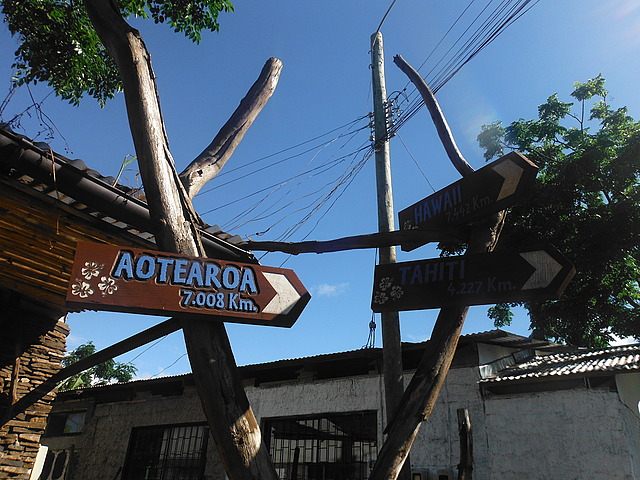 Easter Island has to be one of the most unique places I've ever been. However, sorry to burst your bubble by my saying this - it's not as remote as people say it is. It has caught up with the modern world. In fact, it's well connected with having regular flights via LAN airlines and lo and behold... there's internet widely available! Nonetheless, it continues to attract outdoor enthusiasts, as well, as history buffs, as it always have. The island has this way of captivating one's imagination and commanding respect for its nature and culture. It does take you back in time when you're face to face with the enigmatic Moai statues. A small island may be, but certainly not one to be overlooked and forgotten.