The Indian Himalayas: Sham Valley Trek
Whenever I get the chance to explore on my own, I always find myself saying YES to it before I even get there. On the first leg of my journey in India's Himalayan region of Ladakh and Leh, I knew ahead of time that I was going to spend almost two weeks exploring the scenery around Leh by myself. But I couldn't resist my love to go on a multi-day trek. After all, Ladakh is full of mystery for most westerners like myself. Hence, despite the fact that I was in the area during off season (late-September), which meant a minimal amount of tourists, I found this very fact the most appealing reason for me to go on a solo trek!
So, I went ahead and spoke with some local operators in the area to see what options I had for a short 3-4 day multi-day trek. That's when I discovered that Sham Valley trek is a perfect prelude to any major trek in the area. In fact, the locals dub Sham Valley trek as the "baby" trek. Given I had at least 4 days to spare, I went ahead and decided to undergo this high altitude trek for 4 days. After all, I needed some training for the subsequent trek I was about to do - the famous Markha Valley trek which consisted of two high passes of almost 5000 meters.
But for this trek, I opted to have a bit of help. Thus, enters that part of me that teaches beginner backpacking classes. Realizing that the area of Sham Valley is remote in some aspects, combined with my lack of language skills and the lack of a decent map to guide me along, I decided to have a guide with me as a safety precaution. That turned out to be a good decision as I was correct in my suspicion that the trek can be more challenging than just any "baby" trek. In fact, most of it is not marked and there were side trails along the way that can render it more challenging for a hiker who's new to this part of the world.
I then hired a female guide trainee, Yangdol, from the Ladakhi Women's Travel Company after meeting its founder Thinlas Chorol. Yangdol just started this year as a trainee and professed quickly her love for the mountains. Although Yangdol's English was good enough to communicate basic ideas and concepts, it wasn't at the level of proficiency that one imagines for a full fledged trekking guide. Nonetheless, I was impressed with her level of English knowledge compared to some of the guides I met who have been working on the trails for a much longer period of time. With my personal guide all sorted out, the next step was to book our transport to the trail. I haggled with taxi drivers on the main square in the center of Leh until I found someone to give a relatively decent price.
The next morning we ventured out at 8 am to get to the trailhead located in the small town of Likir, specifically next to the monastery of the same name. The drive took almost two hours. En route to the monastery, we stopped to see the popularly photographed Indus river valley which was amazing to see in person.
As a start, we visited the monastery before beginning our Sham Valley trek.
What follows below is a detailed description of the Sham Valley trek from Likir to Temisgang with the option to get a ride to Lamayuru to visit "moon" land and the popular monastery. The trek description below is intended for those who wish to do Sham Valley independently. However, as a solo trekker, I would recommend having a guide for safety reasons as there are parts to the trail devoid of the presence of other hikers or locals to assist you in case of an emergency. Keep in mind the trail itself is unmarked the entire time with some side trails thrown in that may confuse hikers. Also, by hiring a guide which can be as minimal as $10 a day, you are creating employment opportunities for the locals which is always a positive way of giving back.
DAY 1: Likir (3530 m) to Yangtang (3590 m)
Hiking time: 4.5-6 hours
From the monastery, proceed downstairs. Follow the path that hugs to the right. On your left is the road parallel to you. Take the path that veers to the right and eventually goes over a hill on the left side of the mountain. Eventually, you will go around the mountain and lose sight of the monastery which you had a view of from behind you the entire time.
You will hit Pobe La pass (3550 m) eventually after a bit of a climb which brings you to a view of the other side where you get to see Stok Kangri, the highest peak in the Stok range in Ladakh at 6153 meters. At this point, you get closer to the road as you go down steeply towards it. You'll be following the road for a few minutes uphill until you see a marker of stones with prayer flags on the left side. Then, you just reached Sumdo pass.
From there, you follow the dirt path downhill parallel to the road. Go down as it flattens at the bottom where you see bushes and big boulders as you proceed along a stream bed to your right. Keep going as you reach a bend at which time you'll see bricks that are for sale on your left. Proceed further and you'll start ascending from there. A few meters from the first set of bricks is a pole with small prayer flags. A short climb begins which takes you to a dirt road. Walk on it with the Zanskar range in view.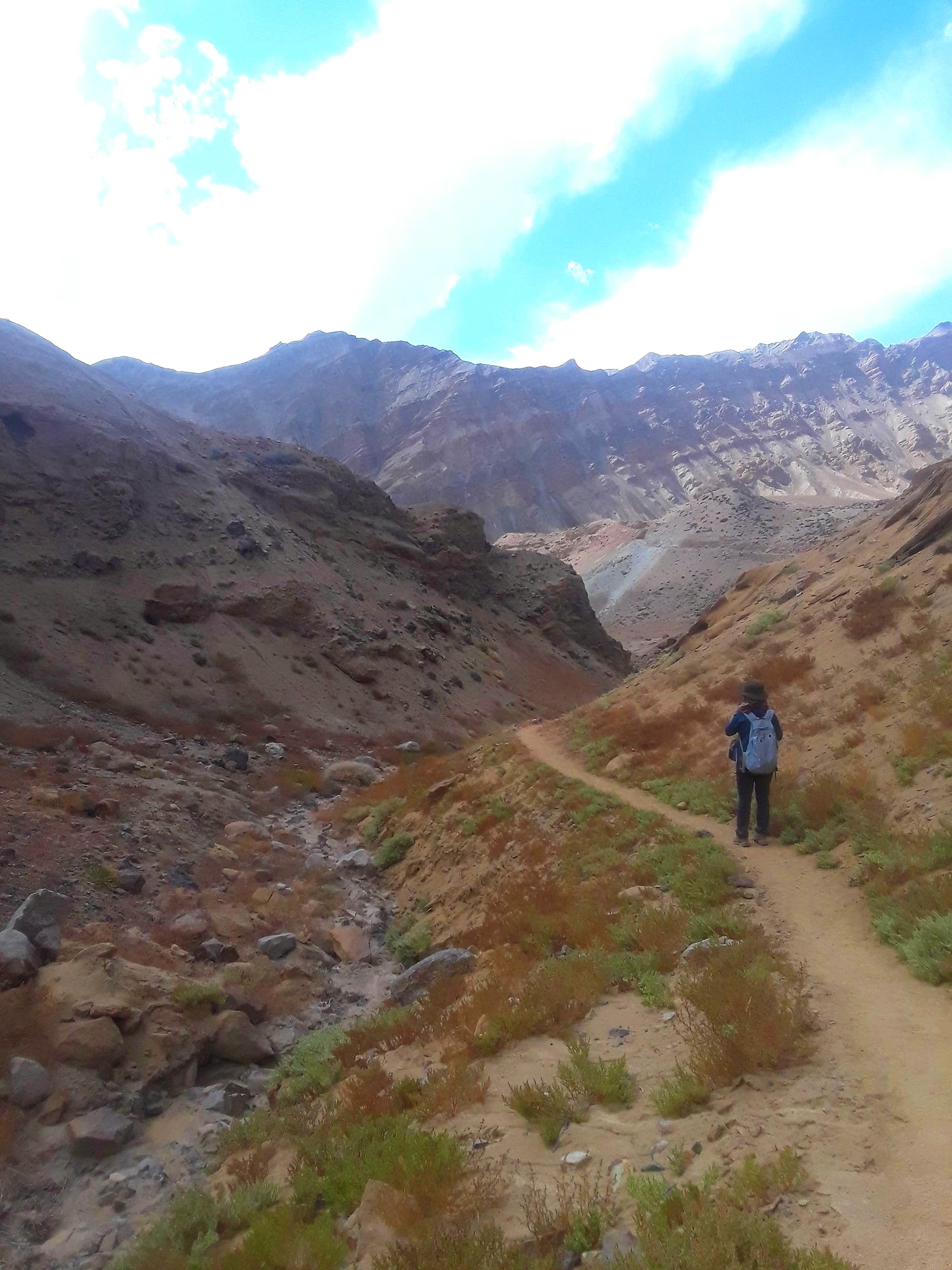 You'll eventually leave the view when you reach the road. Upon reaching the road, to your left side, you go steeply downhill with a view of Sumdo village (3470 m) ahead of you. You will see two houses in this village. Aim for the houses on the clear path. Soon you'll be walking next to the stream and a road as you get closer. You will cross a wooden bridge at some point. From there, you continue up and start the climb to the last pass, Charatse La (3650 m) which winds it's way around rocky mountains. It's a steady climb up with some shade and sunny parts along the way. The climb from Sumdo village to the pass can take up to an hour. You'll know you're near when you start seeing electric poles on the trail because the actual pass is marked by an electric pole full of prayer flags.
Next to the pole is the road which you take to get you all the way to Yangtang in 30 minutes. This short walk is the highlight as you enjoy a gorgeous view of the Zanskar range while walking towards the village.
Upon our arrival at the Yangtang village, we had a difficult time finding a place to stay because it was already low season. Apparently, upon the start of the low season, most villagers start closing down their homes to hikers. After a few houses declined to welcome us, we were lucky enough as Yangdol's cousin and his wife actually live in the village. They don't usually host hikers but they made an exception for us this time around. At this residence, Yangdol's cousin, his parents, wife and their infant child resided in the home. The common area was essentially the kitchen and living room combined - a typical Tibetan-like home where you sat on the floor with tables to use for dining.
The family is in the midst of building a bigger home which they plan to open to tourists in the upcoming trekking season. For about 800 rupees, the family offered me a place to stay on a mattress on the floor with dinner, breakfast and packed lunch. The food was basic - rice, sauteed cabbage and chai. Though it was basic, it was one of the tastiest meals I ever had. For the night, I shared the room with my guide who had her own mattress. The room was warm despite the drop in temperature at that time of the year. The next morning, I woke up early to catch the sunrise on the rooftop of the house. It was cold and a bit windy but the silence atop the house was amazingly meditative.
We had our breakfast with the family and took photos with the women of the household before heading out.
DAY 2: Yangtang to Ang (3400 m) via Hemis Shukpachu (3690 m)
Hiking time: 2.5-3 hours (to Hemis); 3-4 hours (to Ang)
Total hiking time: 5.5-7 hours
Originally, it was suggested to me that I walk to Hemis and stay there on the second night. However, en route to Likir, our driver kept insisting that I go to Lamayuru to witness the unique rock formations called "moon" land. He also bragged about the beauty of the monastery in the town. I knew Lamayuru was a tourist destination as I ran into it during my research on Ladakh. I then inquired of my guide if there was a way for us to end our journey there which required doubling up on some of our trekking days so we can catch a ride to Lamayuru on the third day and leave for Leh the day after. My guide agreed with the suggested revised plan. Hence, day two became longer than expected. It took us about 6.5-7 hours although at a minimum one can finish this leg of the trek in 5.5 hours without stopping. Our walk took longer because of the time we spent indulging in the wonderful Himalayan scenery.
While regular hikers will find the trek from Yangtang to Ang quite easy and pleasant, I wouldn't advise this length of hike for beginner hikers as it is long and requires a few ups and downs at high elevation while you're exposed to the elements the entire time. Luckily for us, the weather was sunny the whole time; but even with the sun, it was uncomfortable due to its intensity at such high elevation. For someone who is not fully acclimatized to the high altitude, a longer hike would certainly pose an unnecessary challenge. Know your limits and only create an itinerary that is more challenging if it suits your experience and comfort level.
Staying over in Hemis has its advantages anyway. Here's why - I particularly found Hemis village picturesque with a view of a portion of the Zanskar range from the valley floor. That is one nice view to see on this trek. Upon getting to Hemis which was a much bigger village than Yangtang, with its rolling green hills and spectacular view of the monasteries and peaks, I felt a bit of disappointment over changing my plans to stay in Ang. The Sham valley trek is essentially a trek through the villages in the Sham region. Hemis was one of them. By far, Hemis is my favorite and one place I wouldn't mind spending more time in. I can only imagine this valley to be full of hikers during high season, but of course, that is expected due to its gorgeous landscapes and tranquil atmosphere. When we arrived there, I had the view all to myself. That made it hard to leave.
Moving onward to our second day of trekking, for this leg of the trek, it can be a bit tricky to figure out the trail as from Yangtang village you walk towards the side opposite the Zanskar range. When in doubt, ask the local villagers which direction to take to go to Hemis and they'd be happy to point you in the right direction. From the lower portion of Yangtang valley, you walk towards the left side corner until you see a path to the left which you follow all the way downhill to the stream.
Eventually, you cross wooden bridge. You see a couple of houses at a distance as you go down. Immediately after the bridge, you start ascending on a rocky path until you reach a road past a mani wall. You walk on the road until you see a brick wall. You then get off the road and follow the cairns in front of you which will lead you back to the trail. The road will eventually show up on your right side. You start going up gradually. You cross the road again and then the steep ascent starts towards the Sarmanchan La pass (3870 m) with a nice view of Yangtang. Once on the pass and the road, the view of Hemis will be on the other side.
Just follow the path going all the way down to take you to Hemis which will lead you to the monastery and then a meadow with a view of Zanskar. It's a meadow full of colors especially in the autumn season.
You continue on from this view point via the clearly trodden path until you see a stupa, at which time you turn right as you walk along a stone wall. You'll then see stupas on your right as you climb up. You continue on until you see something that looks like a dirt road in front of you. Take the small walking path to your right. Walk on this path as you leave Hemis behind you. Keep walking and then you'll see another stupa in the middle of nowhere. A few meters from there, you'll see two stupas with prayer flags and two windproof toilets. You just reached Mebtak La Pass (3820 m).
From there, you take the dirt road down on your right as you see the view of the pass that you'll be climbing soon enough. You follow it down until you see a narrow downhill path. The path will take you to a rock slide area (be mindful of the rocks here) where you get to enjoy the amazing view of the Zanskar range on your left.
The path eventually climbs up towards your last pass, Lago La (3820 m), that is marked by prayer flags - this time a more authentic version of a pass without the electric cables! The landscape at this juncture features changing colors of rocks with red and brown hues immersing together for a momentous photo op.
From here, you follow the downhill path which winds down for quite a bit of time. Eventually Ang will be in sight. From that point, you walk 15 minutes more to get to Ang. Ang is a smaller village consists of about 20 families. It's set on a hilly terrain with a few guesthouses that cater to weary hikers. We stayed in one that was owned by a relative of Thinlas. The room I stayed in had six mattresses on the floor. As it was low season, I was their only guest and had the room to myself. Dinner that night consisted of the local noodle soup dish with potatoes which complemented the chilly night atmosphere. As guesthouses in Sham valley and the Ladakh region overall are inhabited by the locals themselves, I learned more about their typical toilet system. Here's a peek at the toilet system at the second guesthouse I stayed in.
Day 3: Ang to Temisgang (then by car to Lamayuru)
I anticipated the third day to be the easiest as we planned to head out of the trek and get our ride to Lamayuru from the main road. We had to leave at 7 am to catch the "bus" at the next village of Temisgang that will take us to the main road where we then take another bus to Lamayuru. For breakfast, we had the typical chapati bread with jam, eggs and coffee. We managed to leave at our designated time and started our downhill walk towards Temisgang which took about 1.5 hours. The hike started out on a footpath from Ang which took us to the main dirt road that the locals normally take to get to Temisgang. By following this road, you'll eventually get to Temisgang. The so-called bus station is on the other side of the village so you have to keep walking until you reach the end of it. Walking to the other end of the village took another 45 minutes. Temisgang is certainly a bigger village and cars are much more of a common sight here as opposed to the two other villages. Once we arrived at the end of the village, we didn't see any sign of a "bus." But we ended up asking a local driver for a ride which was easy enough to do. The drive out of Temisgang was beautiful although it only lasted 15 minutes on a rocky 5 kilometer dirt road. We were then dropped off at the main road junction so we can then catch the public local bus from Leh to get us to Lamayuru.
Yangdol and I waited on the side of the main road. We got there around 8:30 am. Supposedly, the public bus was expected to pass by that area around 9 am but that didn't happen. As we didn't really know when this bus was to arrive exactly and after waiting for 40 minutes, we decided to take a taxi. After all, it was only 200 rupees for the two of us. While waiting for our bus, a German guy was walking on the road trying to go to Temisgang. He just came from Lamayuru and was on a mission to visit monasteries along the way. The German stayed at a guest house in Lamayuru for 400 rupees and told me there's no way I will get the same price because I had a guide with me.
So, off we went to Lamayuru by car which was a 35 kilometer drive. Soon enough, I witnessed the so-called "moon" land that our first driver spoke of.
At Lamayuru we were lucky to get two separate rooms for 400 rupees with gorgeous views of the monastery and the town itself. (Take that, Mr. German guy!) We stayed at Shangrila guest house that miraculously had better wifi connection compared to Leh! Also, the lady who runs the guesthouse cooks the best meals ever - I had the typical cabbage dish there with rice and it was the tastiest meal I had on this journey. I can eat that everyday!
As we arrived in Lamayuru in mid-morning, we had time to rest and have chai before heading out to the monastery. It was a great way to end the Sham Valley trek. The monastery was perched up on a hill with views of the valley down below. We spent our afternoon exploring the monastery and enjoying the scenery with a much more noticeable increase in the size of tourists around me. On our trek, we merely saw 5 tourists in total for the 3 days that we trekked. That's the beauty of low season.
DAY 4: Lamayuru to Leh (by public bus)
The last day was straightforward. Yangdol advised that we only need to take this one public bus in the morning that will take us back to Leh. As she and her family lived in a village that is also part of the Sham region (a possible village to explore if you wish to extend your trek), she was familiar with the bus route we were taking to get us back to Leh. We were ready for our bus by 8:30 am but our bus didn't arrive until about 10 am. The bus ride took about 4 hours more or less with a lunch stop along the way.
Upon arrival at the bus station in Leh, I bid farewell to Yangdol who did a wonderful job keeping me safe and in arranging logistics as per my plans that changed over time. I appreciated her flexibility towards our plans that constantly changed and her cheerful demeanor the entire time. Having a female guide certainly presents a unique experience as the level of care and attention can easily be felt. For that reason, I always welcome the idea of having female guides on my treks and highly desire them for my clients through my social enterprise, Peak Explorations.
Sham Valley is highly recommended as training for the bigger treks in the Ladakh region. It's a perfect introductory trek to the Indian Himalayas without a doubt. After all, there aren't many options for training hikes in the area given that the altitude commonly goes beyond 4000 meters for many of the treks in this area. What's great though is the fact that you have the option to go independently if money is an issue or if you wish to have more flexibility. Yet, even with a guide, the cost is minimal compared to other trekking regions such as Nepal or Peru. In addition, the arrangement for a guide or porter is easy to make even at the last minute. If you have a group, splitting the cost for a guide would tremendously reduced the price per person. When you get to Leh, you'll see a lot of signs asking for others to join a specific trek and departure date. Hence, there is a possibility to join groups but in my case it just didn't work out with my own personal schedule.
Are you trekking in the Sham Valley?
As an instructor for Beginner Wilderness Backpacking class, here are my tips for you:
1. This is high altitude trekking. Know about precautions and how to prepare for high altitude trekking. Prepare by reading my tips HERE.
2. Make sure you have two liters of water with you each day. You can refill at your guesthouse. There are water sources along the way on day one and two assuming you have water filter with you. The sun is intense even when I did this trek in late September. In the summer, expect it be a hotter trek and add another liter to your water supply to avoid dehydration and heat exhaustion. You can learn more about heat-related issues and how to prepare and handle such situation HERE.
3. When can I trek the Sham Valley? May-October. Trekking outside of those months may mean snow on the ground which require spikes/traction for your shoes and gaiters. Also, keep in mind, the locals close down their homes to tourists during off season so you have limited options for a stay.
4. What gear items should I bring? A good pair of hiking shoes, hiking pants & shirts, rain pants and jackets, base layers (top & bottom - synthetics/wool material); sunhat, sunglasses, sunscreen, change of clothes for the night, midlayers such as fleece or down jackets for the night or cold days in the autumn season; water bladder/bottle (up to 3 liters capacity); gloves, a couple pairs of socks; camp shoes; toiletries (toothbrush, toothpaste, baby wipes etc.); headlamp, camera, portable charger, etc plus extra batteries); snacks such as protein bars, nuts, dried fruits etc.; first-aid kit; map/gps; toilet paper; local money; water filter of choice; 30-50 liter backpack (with rain cover) to carry your items.
If you're camping, bring tent, mat, & sleeping bag, stove, fuel, matches, mess kit, cooking pots if applicable and food for the entire trip. Camping is allowed anywhere. If camping in the village, ask permission first if you have local neighbors next to you.
Got questions on gear? I'd be happy to answer them further.
5. Water can be obtained from the guesthouse every morning. They boil the water for you. If you wish to be cautious, bring purification tablets or your own water filter. I do not recommend Steripen as this fails at high altitude due to battery issues. Manual filters are better.
6. As to toilets, you'll be able to use the toilets at the guesthouses. Make sure to bring toilet paper; however, most guesthouses already have this in stock.
7. Some guesthouses offer showers but be warned water can be lukewarm. It's better to just wait until you get to Leh to get all clean. Dirty is beautiful anyway - see what I'm talking about HERE.
8. People running the guesthouses speak/understand sufficient English to cater to the tourists; however, knowing the local language and making the effort to speak is highly appreciated.
9. Are there animals to contend with? Yes, theoretically. But the animals are shy and I personally didn't see any. So, you don't need to worry much about it. Don't go looking for them and they won't find you.
10. Should I hire a guide? Yes and no. It really depends on your experience and level of comfort. If you're going solo or you're not an experienced trekker, then I highly recommend you connect with a guide. There are plenty of options in Leh. You can talk to the operators directly and ask for their pricing for a guide. If you wish to lighten your load, you can even hire a porter. Guides range from 1000 to 3000 rupees per day while porter pricing is a bit lesser than that.
11. What about navigation? Keep in mind there are no markers/signs along the way. There are maps in Leh that outline the trek but they're not thorough and detailed enough; they merely give you a general outline of the trek but nothing more. So, the write up and trail description above should assist you in some way.
12. What's the pricing for the guesthouse? It can range from 800-1400 rupees. In low season, it's easier to bargain.
13. How much is the transport to Likir? It will vary based on your bargaining skills. I was able to negotiate and paid 1000 rupees. The government regulates the pricing by publishing set rates that taxis have to follow. Use this as your basis for negotiating your desired price.
Here's a bonus clip! Want to see the inside of that sturdy metal toilet on the pass en route from Hemis to Ang? Check it out!