Outdoor Women's Voices: JENN COLEMAN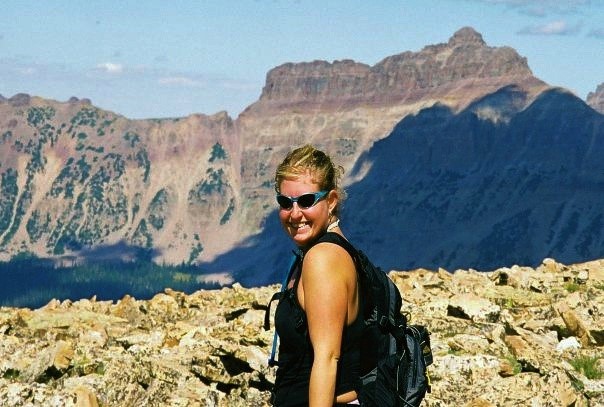 No fear of commitment to the outdoors.
Jenn is originally from Denver, Colorado. She recently moved from San Diego, California to her present home in Orlando Florida. Jenn shifted from her love of skiing to a new passion - hiking. Her hiking life started at a much earlier age though when a tragic event took shape in her life. Since then, Jenn committed her life to the outdoors as nature has given her so much in return. When many of us fear commitment to various persons or moments in our lives, Jenn learned to commit to one aspect in her life - her relationship to the outdoors, and that's despite against all odds including the challenges related to health and aging.
When did you first start hiking?
I really started hiking my senior year at high school. My father died tragically through suicide and I was going down a dark path. Luckily for me, I found nature to center myself. I truly believe that nature and experiential learning are the tools for me to promote mental health.
How did you discover hiking?
My friends got into hiking and I joined in. It was my gateway to a lifetime of outdoor adventure and the best gift anybody has ever given me.
Tell us about at least 3 places locally and abroad that you've hiked.
Jenn shares with us her most memorable hiking experiences to date.
Iceberg Lake Montana. My ex-husband and I were sitting in the middle of a wild berry patch snacking on berries and trail mix when along comes a baby bear. Our first thought was ahhh, how cute. Then - where's momma. Sure enough, momma bear was right behind him. We packed up quickly and started hiking out of their berry patch but they kept pace with us. In fact, my ex would have tripped over baby if I didn't shout out his name and make him stop. Luckily, they kept going around Iceberg Lake and we could escape into the forest.
What do you like the most about hiking?
I love getting outdoors and being in nature, especially baby animals and sweeping vistas.
What do you like the least about hiking?
What I like least about hiking is how my body is aging. More than aging, it's completely breaking down. I have had ten knee surgeries including two total knee replacements. Yup, I'm bionic. You would think titanium knees would make you some kind of superhero but it doesn't.
When I was sixteen, my patella dislocated to the back of my leg. A few MCL repairs and other tweaks and then they realized that I had a structural misalignment. There was no way my knees were going to last. My doctors advised me to quit being active, leave the ski industry and take a desk job.
I had another idea. I worked to be strong and capable. I became a personal trainer and yoga instructor and managed to keep skiing for another decade. Finally, reality set in. I moved out of my ski in condo in Whitefish and down to the deserts of Arizona. I needed to get skiing out of my mind and I needed new knees.
I got new knees in Tucson and a new husband. The husband is great but the knees aren't quite the same. My proprioception and fast twitch muscles never came back. I have no natural feel for the trail. My feet feel like lumps of clay and I have to go even slower than before to keep from tumbling down the trail.
Do you enjoy hiking solo or with others more?
I enjoy hiking solo or with small groups. I hiked solo through Glacier National Park for years and it's a prerequisite for men in my life to go hiking with me. I just don't like large groups or aggressive hiking. I can hike all day but it's slow and steady.
What are some lessons you've learned from hiking?
I learned, or am learning, how to age gracefully and let me tell you, it's hard. I have a goddess tattoo in on my hip to remind me to embrace the changes in my body that I can't control. It represents the universal pattern of evolution. It is only after death that there is rebirth. Instead of mourning the loss of my previous physicality, I need to be open to the rebirth of my new physical reality and the hidden gifts it holds.
What advice would you give to women who are new to hiking?
Don't be afraid. Hiking is one of the most empowering activities in the world. You will learn all about nature. Not just the plants, animals and rocks nature but the nature of yourself. What you can accomplish, endure and overcome. The other bit of advice is to keep going, there is almost always something amazing around the next bend or over the next hill.
Check out some of Jenn's favorite hiking photos.
What treks do you have on your bucket list?
· Chamonix Loop in the European Alps
· W circuit in Torres del Paine National Park of Chile
· Trekking in Bhutan
· Tongariro Crossing in New Zealand
· Machu Picchu
What is your favorite hiking gear and why?
I love my Camelbak so I can stay hydrated and keep miscellaneous items at hand. I also love a good pair of collapsible hiking poles for my knees.
What is your favorite quote that motivates you on and off trails?
Sometimes all you need to adjust your attitude is to adjust your altitude. – unknown
What was the toughest hike/trek you have done?
Summiting South Sister in Oregon: The final segment of the high was a steep talus slope. Every step forward was followed by a slide back. I kept on pushing and plodding and eventually reached the summit. Sometimes you have to find the strength in your spirit when your body starts to fail. By the time I made it back down I was walking a bit like C3PO.
Have you run into any challenges personally as a "female" hiker?
As a female hiker it is always challenging to deal with your 'monthly friend'. I have found not only remembering to bring your 'equipment of choice' is critical, but as it turns out, also bringing a plastic bag (it's important to be eco-friendly ladies ;-) )and baby wipes are a must! I really want to try the new Thinks period panties, hopefully they will eliminate the need for extra 'equipment"
Describe yourself in 3 words as a hiker.
Slow, determined, organized.
What advice would you give your younger self?
Enjoy every minute of your bad ass self.
How do you see yourself in 5 years as a hiker?
I am hoping for a second spring in my life. I want to use blogging and travel writing to reconnect with the wilderness that I had as a ski instructor. In five years I truly believe that I will have my mountain legs back.
Tell us about your blog, Coleman Concierge.
I started blogging with my husband in the spring of 2016. We wanted a vehicle to break us free from the corporate 9-5 at the same time as exploring the world. We don't want to just be tourists. We want to be able to study, share and advocate for the spirit of adventure.
What is the mission of your blog?
Our tagline is Amazing Adventures for Ordinary Adventure. We always want to be expanding our comfort zone and encouraging others to do the same.
How do you envision implementing your mission?
Grinding and a lot of hard work. We think you can't get anywhere without a quality vehicle. What I think will separate us from other travel writers is our commitment to experiential learning. We have to keep doing things and learning things.
What have you learned about yourself in the process thus far?
The most surprising thing I learned about myself is how much I like photography. I never envisioned myself as an artist but photography, especially landscapes speaks to my soul.
What do you like the most about your blog?
It's the people we meet and the places that we go. There are so many places in the world so we better start travelling right now. When we are on the road, we have met some amazing people who have a uniquely intact human spirit and live a joy-centric life.
What challenges have you had and how did you overcome them?
Breaking into blogging is hard. It's hard to get readership and also develop a quality product. We are overcoming this by teaming with really great bloggers and support groups. We get by with a little help from our friends.
How do you define success with respect to your blog?
There many intermediate milestones along the way but our ultimate success will be measured by how well our writing enables a travel lifestyle. This could happen in many different ways ranging from having monetized digital content to simply having digital media production being a deciding factor in hiring us to a remote location.
Where can we follow you and your adventures?
The blog, Coleman Concierge and through social media: Instagram, Facebook, Twitter & Pinterest.
Thanks Jenn for sharing your journey with us!
Wish to join a trek to Bhutan or Chile's Patagonia? Check out our Bhutan's Jomolhari Trek or Chile's Patagonia (Explore & Capture Trek) via Peak Explorations.
Love our feature? Share it with others.
Are you a woman paving your own way in the outdoors or know of someone who's doing so? No story is ever small to share. Send us a message via bgtrekker@peakexplorations.com to get featured!